Foundations of Kale Endüstri Holding, that provides integrated products and services at every field related with security, which is not only of Turkey but one of the most important global trademarks of world, was laid in year 1953 at a workshop in İstanbul, Tahtakale. Sadık Özgür, Honorary President, started his business life with manufacturing bestead and cooker at this workshop, when he opened its workshop, has also started the history of Kale Kilit, that would turn into a worldwide success story. Sadık Özgür, when he opened his modest workshop, knew that the means to reach his dreams was 'working hard'.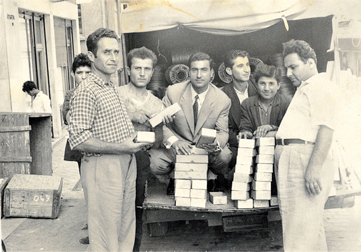 FROM WORKSHOP TO GLOBAL HOLDING
Sadık Özgür's principle of 'working hard' and working principles produced its fruits in a short time. Its products of high quality became the first address of 'trust' in the sector and the demands gradually increasing, encouraged the new investments. Thus, this modest workshop at Tahtakale moved in year 1957to its new place of 1.640 m2 at Bahçelievler, Old London Asphalt. The company also starting to padlock production at its new workplace took the name of 'Kale Kolektif Şirketi' in year 1958 by continuing to manufacture with its increased labor number and machinery equipment. At the same time by bringing  in  a first , started to produce  'Turkey's first safe lock'  in year 1965.
Kale Kolektif Şirketi, adding the high business ethics and principle of working honest to its customer oriented production and service understanding, never sacrificed trust and quality … The trademark of Kale became more famous and day by day and mentioned with 'quality', 'warranty' and 'trust' by the consumer.
A FIRST AT EXPORT
It scored an important success in year 1974 as Turkey's first lock exporting company.  Its starting to export and the increase of the domestic demand gave rise to the movement of the production facility into a bigger field. In year 1979, the production facility at Bahçelievler moved to its new place of  35000 m(2) at Güngören and new factory became the first technological lock factory of Turkey. The company decided in the same year to continue under the name of Kale Kilit ve Kalıp Sanayi A.Ş.. Year 1979 was a term where successive new and important steps were taken for Kale Endüstri Holding. In year 1980 Kale Vida Sanayi A.Ş., in year 1981 Kale Madeni Eşya ve Pazarlama, in year 1986 Kale Kilit Dış Ticaret A.Ş. were founded. In year 1988 , all Kale companies that were incorporated until now , were gathered under the roof of Kale Endüstri Holding.
THE BIGGEST LOCK PRODUCTION FACILITY OF EUROPE
Kale Endüstri Holding has succeeded with Kale companies under its roof, in being a trademark of not only Turkey, but also at world markets. Kale Endüstri Holding, being among the most important players of the world economy arena and taking a giant step, had the pride of establishing Çerkezköy Factory, being the biggest integrated lock product facility of Europe, in order to maintain the competition at world market by being reinforced, provide product at world standards. Thus, the journey starting at a modest workshop at Tahtakale in year 1953, continuing in year 1957 at Bahçelievler, at Göngören since year 1979 was dispread to Europe's biggest integrated lock product facility at Çerkezköy. Since year 2016, the production of the products of all group companies, within the body of Kale Endüstri Holding have been united at Çerkezköy Factory, under a single roof. The company incorporating Çerkezköy Factory, that is also a source of pride for our country, has developed its rapid and stabilized growing trend with its giant investment.
EXPERIENCE AND VISION
Kale Endüstri Holding, being successful at being competitor at the markets where the biggest global manufacturers of security sector were dominant, exporting to more than 100 countries at very different geographies; continues its journey of more than half century upon the sound foundations based in year 1953 by Sadık Özgür in Tahtakale. Honorary President Sadık ÖZGÜR and Chairman Sedat ÖZGÜR's philosophy of  "The applied decision is stronger than the decision maker " their strong belief in honesty and team spirit , enlightens the road of the company. Kale Endüstri Holding, creating differences at security sector, blending its experience with its innovative vision, progresses with confident steps in maintenance of  its leadership in  Turkey and the being in the first place of world. TS EN ISO 9001:2000 Quality Management System Certificate,  TSE Certificate, CE Labeling, Netherlands SKG Durability, Russia GOST Compliance Certificate crown  its successes …
Export Leader
Kale  products being distributed to thousands of points through its authorized seller point over 450 in the world and approximately 1000 construction market, reach to consumers from these sales points. Kale Endüstri Holding, due to the big advantage provided by wide technological opportunities and new investments being constantly continued, can meet the needs of the markets having totally different usage habits from each other. The biggest evidence thereof is its exportation  until now to more than 100 different countries of the world from Russia to Argentine, from Ukraine to Saudi Arabia. Today however regular export is being continued to more than 70 countries.